Taormina
Taormina is located at 200 metres above sea level. The structure and geographical position form a terrace suspended between sea and sky, enriched by a beautiful panoramic view in which the nearby, imposing volcano "Etna" stands out. This is a year round tourist destination and tourism is facilitated not only by the typical cultural and natural beauty of the city but also by the excellent hospitality and entertainment available as well as the legendary Sicilian warmth.
Over the centuries, the city has always been a major tourist destination, hosting famous personalities such as William II of Germany, Goethe, Maupassant, D. H. Lawrence, A. France, Oscar Wilde, Brahms, designers like Dior, noble women such as Florence Trevelyan, painters such as Geleng, as well as members of the British and French aristocracy. The beauty of Taormina has also had the merit of conquering numerous directors who have chosen it as the ideal set for their films, starting with Michelangelo Antonioni who set his work "L'Avventura" precisely in this city.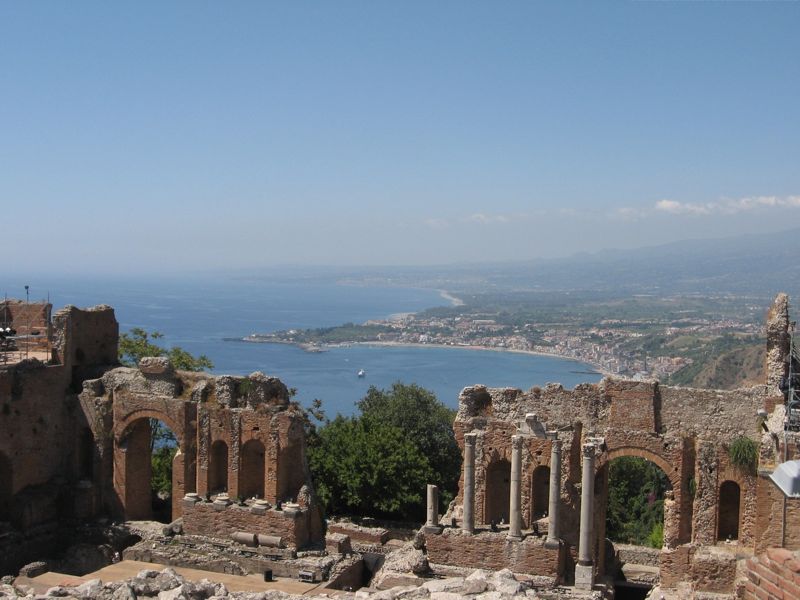 Anyone visiting the city will be subject to the same charm that it has exercised over the illustrious men just cited and may choose from the various alternatives offered by the city. Corso Umberto, the showpiece of Taormina, comes alive until the early hours of the morning. In the afternoon enjoy the walk up to the top of the auditorium of the ancient theatre, to enjoy the sunset from up high (as did the French André Gide, in black cloak and floppy hat).
The charm of the sea then is irresistible and the sunshine makes the beaches of Isola bella, Mazzarò and Spisone popular even in winter. The Bay of Isola bella is still that of Goethe and Kaiser and although offshore there are speedboats zipping around, tourists still prefer the old fishing boats, smelling of seaweed and fish. You can go on a trip to the Grotta azzurra, rocce del Capo or the Naxos lido.